Commentary - Girls playing Magic, or STFU guys and let them play!
I suppose this happens in every male dominated kind of geeky thing, such as XBox Live and all, but really - guys, make the girls feel welcome.
From MtG article located here: http://www.wizards.com/Magic/Magazine/Article.aspx?x=mtg/daily/sf/106
Super Friday Night Magic was something I covered, graphically, last week. However there was one not-so-subtle point I raised: Magic is not just a "boys club" of guys slinging cardboard.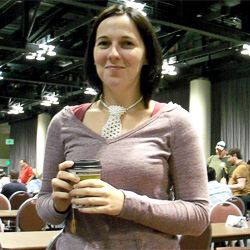 Nicole
The irony of pointing out Nicole specifically outside of the four rounds of the event, while maintaining that we should never treat other players differently, is not lost on me. I thought long and hard before putting it in there right up until I saved my final copy. But there's an interesting trend I've noticed: the bigger the event, the higher the percentage of female attendees.
Nicole shared some specifics on how she's been treated differently:
Assumed to only like Magic "for the pretty cards"
Played down to as though she didn't know how the game worked
Losers who take great pain at "losing to a girl"
This isn't an easy topic to address but it's one that needs to be brought up. Magic players of all types, regardless of gender or superficial features, are still Magic players: every one deserves and should be able to expect the same respect you yourself would want.
MtgFan:  Seriously guys, let's respect the women of our hobby.  This hits especially hard for me, since my girlfriend is an avid MtG player.  Luckily the people at our local game store are pretty friendly and with all levels of players.  Let's help new girls people in general to the game feel comfortable, and make them want to come back to play.
7 Notes/ Hide
inthemindofagamergirl said: Definitely one of my biggest issues in the gaming community. Girls can kick ass just as hard as guys, and some have probably been playing longer than guys. Good article.
mtgfan posted this